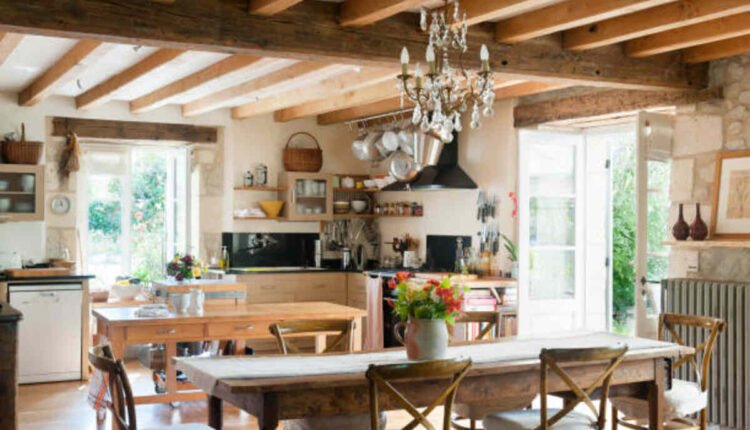 The French country style combines a simple color palette with floral patterns and antique furniture. It evokes the decadence of the Rococo and Baroque periods but with less formality. Instead of focusing on grandiose decor, French country interiors emphasized family, comfort, and function. Incorporating a muted color scheme and floral patterns, this style can be a fun way to decorate your home.
White, bright, and floral accessories
French country decor is a classic look that embraces vintage elements. This style usually involves using vintage items like ceramic vases and lampshades, as well as antique chandeliers and wall sconces with crystal details. But, of course, you can also use modern touches, like pops of color.
French country decor features a mix of old and new and is particularly suitable for a feminine home. It incorporates a lot of white, bright, and floral accessories and features a heavy floral element in the wallpaper. This style may not be suited for people with masculine sensibilities, however. Often featuring aged or worn furnishings, this style can be a bit challenging to maintain, particularly if you have pets.
French country decor uses a warm, earthy color palette. Muted tones of beige, cream, and yellow are popular choices. Those colors are complementary to muted wood finishes, which are a hallmark of French country decor. In addition to muted hues, you can add pops of red and pink to add color and sophistication.
Curved lines
Curved lines are an important part of the French country decorating style. It's also characterized by the use of ornate elements, such as cabriole legs and curved chairs. The most traditional chairs for this style are wooden ones with fabric upholstery. Curved lines are also a key part of French country accents, such as wrought iron.
French country style is often reminiscent of modern farmhouse design but is distinctly different. It blends classical French elements with a rustic country style to create a balance between comfort and beauty. This style often uses rich, patterned fabrics and touches of gold to create a welcoming atmosphere.
Adding curved lines to your home is an easy way to add this style to your home. For example, you can add reclaimed wood beams to accent your ceilings or the entire room. However, it's important to choose a neutral stain for the beams to avoid overwhelming the space.
Natural landscape
Natural landscapes are an important part of French country decor. They aren't neatly arranged in rows and should blend together for a rustic look. Plantings in a French country landscape can be as simple as herbs or vegetables laid out in ornamental patterns. For added charm, you can use wisteria to decorate balconies and terraces. Consider using metal pipes to support plants that grow tall and sprawling. These structures will prevent climbers from damaging your home and support heavier vines.
A natural landscape should include flowers that bloom throughout the year. Winter flowers include dandelion, daisies, shepherd's purses, and white dead nettle. Early spring flowers include snowdrops and gorse. You can even add an early-spring flowering orchid primrose to the scene. You can also consider using native plants. Many of them can provide nourishment for local insects.
The French countryside is known for its cool colors, complementing a natural landscape. Your landscape might feature neatly tended garden beds, planters, or a field of lavenders. You can also create classic borders using only one type of plant. You can also combine annuals with perennials for a year-round green. You can also use drought-resistant plants for hot summers. Boxwood hedges can be used to trim open spaces.
Gingham
Gingham is a classic French design motif often combined with florals and checks. This print looks particularly beautiful on pillows, bedcovers, and curtains. It adds a touch of femininity to the otherwise very traditional French decor style. In addition to gingham, French country decor typically incorporates florals, stripes, and toiles.
French country decor should transport you to a bygone era to achieve the desired effect. In addition to choosing fabrics, paint, and accessories, consider incorporating items with a personal story. Old pictures, family heirlooms, and other memorabilia can help create a nostalgic atmosphere. You can use these pieces to your advantage by refinishing them or finding a creative way to display them. Whether they are old photographs, old family photos, or anything else, you can find a way to incorporate them into your French country decor.
Gingham is a classic design that evokes memories of summer. It is a popular textile pattern that is easy on a budget. Gingham has long been associated with the French countryside and summer holidays. It was even used in Brigitte Bardot's famous pink gingham wedding dress. However, this pattern is not just for clothing; it is also popular on tablecloths, jam jars, and even school uniforms.
Plaid
Whether you want to create a warm, country atmosphere in your living room or a rustic retreat in the countryside, a plaid pattern is a great way to do so. This traditional pattern looks great in any room and can work with various colors and patterns. Use it around wooden furniture and metal accessories or on window panes, floors, or carpets. Of course, plaid works best with neutral colors, but you can try different combinations.
A classic choice, plaid is a timeless choice that never goes out of style. Its layers are strong and bold, and it's practically impossible to go wrong with plaid. Choose one of the traditional plaids with a few distinct colors or one with oversized panels of two colors. Those with more adventurous tastes can mix and match different colors but stick to two to three colors to achieve a more cohesive scheme.
Buffalo check plaid has long been associated with country-style interiors, but it has also been used in more contemporary, Scandinavian, and mid-century modern spaces. Its alternating pattern of squares of two colors makes it more modern and timeless than when it was first introduced.
Stripes
Stripes are a great option for those looking for a more contemporary approach to French country decor. These striped designs can be used to decorate your walls, upholstered furniture, and even bedding. In addition to stripes, you can use patterns like plaid and gingham to add a personal touch.
In addition to stripes, you can also use fabrics that mimic the colors of French country decor. Toile is another type of fabric you can use. This style incorporates colors typically associated with Provence, like cerulean blue skies. Toile is also a great option if you're looking for a more traditional look.
The color scheme in French country decor is generally warm and neutral, with bold colors used only as accents. This warm and cozy palette makes for a relaxing atmosphere. You'll find a lot of furniture in this style, including simple wood and soft furnishings that make it feel homey.
Reupholstered settees
If you want to add a contemporary flair to your French country decor, consider reupholstering your settees. Interior designer Emma Sims Hilditch says fabrics should be durable and long-lasting to stand up to daily use. The right fabrics can greatly impact a room and create a unique look in any home.
Traditionally, French country-style sofas are fully upholstered in luxurious fabrics. Their designs will include scenes of birds, farm animals, or discrete geometric patterns. You can also find two-piece sets made from distressed white paint and a walnut wood frame. They will be a great addition to any French country decor.
A French country-style settee can be a great investment for any home. Whether a living room or a study, a reupholstered settee will bring life and style to any room.
Black iron candle tapered chandelier
Black iron candle tapered chandeliers are ideal for adding drama and depth to a room. They can be combined with other light fixtures like pendant lights with lampshades, crystal chandeliers, drum chandeliers, or even wall sconces. This type of chandelier also looks great in a foyer or dining room.
These fixtures can be paired with old-fashioned furniture, like French country-style chairs. Their vintage-inspired look complements older-looking furnishings while adding a softness to the room. To ensure that this design scheme does not go out of style, choose items in a color that has a timeless appeal. Colors like cream, gold, and black can work well in the French country style.
A black candle tapered chandelier with candle holders can add ambiance to your living room or kitchen island. These fixtures also come with candelabra bulbs and are available in various shapes and light counts. They can also be easily adapted to different rooms. As candle chandeliers are becoming more popular as a lighting fixture option, they have become easier to find and affordable.