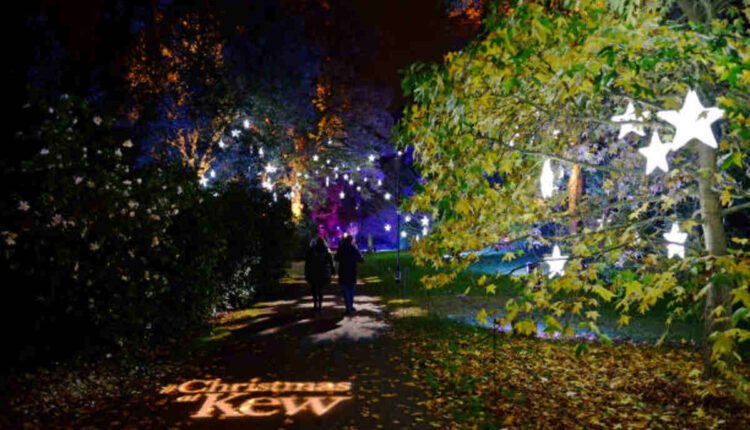 Visit Kew Gardens during Christmas, and you'll be greeted by a magical wonderland of lights and holly. The Gardens transform into a festive wonderland, featuring a mile-long trail of bright LEDs, art installations, and live performances. Highlights include the Laser Garden, refracting light lines, and the Moonlit Woods. You'll also see glowing boats in the Palm House Pond and an unforgettable fire garden.
After-dark winter trail
The after-dark winter trail at Kew Gardens returns in 2020 with a new route through the illuminated Rose Garden. It will feature twinkling light installations and giant illuminated seed heads. There will also be laser projections and a light show in the Palm House Pond.
The festive Christmas at Kew returns for the ninth year and will feature a mix of seasonal favorites and pioneering new light installations. The UNESCO-listed landscape will be illuminated with over a million twinkling lights, singing trees, giant baubles, and kaleidoscopic projections.
The trail is accessible to everyone. Visitors can bring buggies, wheelchairs, and mobility scooters. The gardens also allow registered disability assistance dogs. In addition, visitors can purchase refreshments from the Pavilion Bar, Grill, and Victoria Plaza Café. The latter serves festive cocktails, burgers, and seasonal salads.
At the trail's halfway point, the outdoor auditorium features a Christmas carol service with live music. Along the way, the trail is lit with LED lights, fire lanterns, and a dazzling array of lights. You can even eat food from the stalls along the way.
Kew Gardens' After-dark winter trail is one of the most beautiful events of the year at the Royal Botanical Gardens. It allows visitors to walk through the gardens while enjoying the twinkling lights and the glistening flames in the Fire Garden. In addition, guests can enjoy street food on the trail and even meet Father Christmas!
Another must-see event is the famous Halloween trail. Unlike the previous nighttime celebrations, the after-dark winter trail at Kew Gardens is more about lights and gourds. It's a great place to see the garden during Halloween and enjoy the season. There are also several cafes and gift shops open during the festive season.
Parking at Kew Gardens is free after 3 pm. You can also park at the National Archives adjacent to the gardens. Make sure to purchase a parking ticket if you come during the day. Remember that daytime tickets are valid until 3 pm, and evening tickets are required for the Gardens after 10 pm. Those with disabilities can also park at the National Archives car park. You must show your Blue badge to park there.
Light show
During the festive season, the Royal Botanical Gardens in Kew are transforming the grounds into an incredible light show. This popular event features immersive installations and breathtaking displays, and this year marks its 10th anniversary. Visitors can also enjoy traditional Christmas meals, hot chocolate, and carousel rides.
The light show at Kew Gardens will include laser projections, musical performances, and thousands of twinkling lights. There will also be a fire garden with flaming sculptures and a spectacular light show on the Palm House Pond. Visitors can also enjoy mulled wine and hot chocolate at the various food stalls.
Whether you're looking for a family event or an unforgettable romantic evening, there is something for everyone at the light show at Kew Gardens. This spectacular light show features giant light-up blooms and fairy-lit trees. There's also a vintage carousel and festive snacks.
Light show at Kew Gardens Christmas is a magical experience and can be enjoyed from late November through January. The event is only open to visitors who have booked their tickets. There will be new installations and one million lights. So make sure you don't miss it! The Kew Gardens Christmas lights will be a magical sight in London at Christmastime.
Kew Gardens is a UNESCO World Heritage Site and is located in Kew. Visitors can enter through the Lion Gate or Brentford Gate. Kew Gardens station is located 500m away from the Victoria Gate and is served by both the District Line and London Overground. Therefore, it's important to book tickets well in advance.
Scent of holly
If you love the smell of holly, you're in for a real treat at Kew Gardens Christmas. The garden is home to the world's largest collection of holly bushes. The plants grow up to 300 years and come in all shapes and colors. At one time, Kew Gardens Holly grew in a public walkway known as Love Lane, which connected the Richmond Garden to Kew Gardens. It was a great place to walk and a wonderful place to enjoy the scent of holly.
During the Christmas season, the gardens transform into a winter wonderland. The illuminations make the one-mile walk through the gardens an unforgettable after-dark experience. The lighting creates a magical ambiance and keeps the crowd moving throughout the gardens. Even younger children can enjoy the enchanting scene. There is a range of activities for the whole family to enjoy. A visit to Kew Gardens at Christmas is a great way to celebrate the season with your family.
More than 30 species of holly grow at Kew Gardens. It is the most comprehensive holly collection in Europe. Holly trees were once used to celebrate the winter solstice festival in pre-Christian times. The plant grows to a height of up to 30 meters. The leaves are poisonous to humans but are safe for animals.
If you're in London during the holiday season, you should check out Kew Gardens' Christmas Trail. A mile-long stretch of paths has been decorated with lights and trails, which create a positive experience. There are also traditional vintage rides and Christmas gift shops. Kew Gardens' festive season events are popular and sell out in advance.
You'll find a range of plants, including poinsettias. Poinsettias are particularly popular during Christmas, and the leaves last for months. The flowers can also be grown as houseplants. Poinsettias are native to Mexico and can thrive in warm climates. The gardens also feature William Chambers' 18th-century pagoda, glass Palm House, and marvelous floral displays.
Food options
Kew Gardens is an excellent place to enjoy the festive season with a wide variety of food options. There's something for everyone, from traditional Christmas dinners to street food vendors. In addition, visitors can enjoy mulled wine or spiced cider while viewing the festive lights and ambiance. The gardens also feature a festive light trail.
The Christmas trail at Kew Gardens is open to the public and intended to be fully accessible. However, the steep terrain and gradients can be challenging in parts. Visitors are advised to wear warm clothes and a torch. It is best to bring a torch for safety, as the lighting in places can dim. You may also want to bring a camera for photographing the sights. Several food outlets are available, including the Victoria Plaza Cafe and the Pavilion Bar and Grill. Several restaurants also feature festive drinks, including burgers and salads.
Kew Gardens' Christmas Trail features full Christmas dinners and other festive treats. At the trail's end, there's a festive celebration and a chance to enjoy the gardens' sights and sounds. Kew Gardens is located in the London borough of Richmond upon Thames. Visitors can access the park by train, bus, or tube station. The Richmond branch of the District Line (London Overground) runs nearby.
The gardens are open from four to 10 pm on the weekends and from 4 pm until 10 pm on Wednesdays. Entry is limited, so plan your trip early. The last entry is at 8:20 pm. For best results, arrive early. It's important to plan to avoid the rush! If you're visiting during Christmas, make sure to make reservations.
Kew Gardens' Christmas program includes a range of seasonal displays and new light installations. In addition, visitors can enjoy seasonal street food, mulled wine, and hot chocolate. A special festive dinner is also available at The Botanical restaurant. Thousands of twinkling lights are another highlight. Visitors can even enjoy Father Christmas in his festive presence.