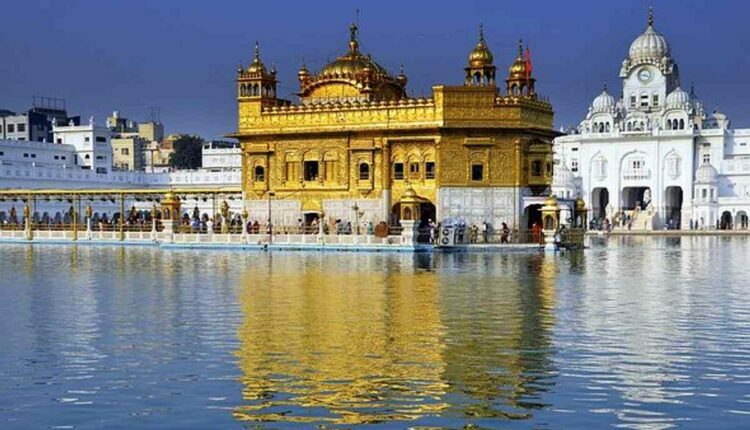 Nice Places Near Amritsar, Punjab
Amritsar is a town located in the northwest region of India, 28 kilometres from the border with Pakistan. It is famous for its gilded Golden Temple, the holiest gurdwara of the Sikh religion. It is located at the end of a causeway surrounded by the sacred Amrit Sarovar tank, where pilgrims take a holy bath.
Dalhousie
Dalhousie is a beautiful place near Amritsar and offers beautiful scenic beauty. This hill town is surrounded by beautiful mountains and pine trees and is a popular tourist attraction. It has many attractions, including the picturesque Subhash Baoli. In addition to the scenic beauty, Dalhousie is home to several temples, a small picturesque hill station called Thaneek Pura, and churches built during the British Raj era.
One of the most popular tourist attractions in Dalhousie is Moti Tibba, which is a great place for nature lovers and photographers. This hilltop is 330 meters above Gandhi Chowk and is perfect for hiking and nature walks. The surrounding dense forests provide an incredible backdrop to this temple.
The area is also home to the beautiful Dalhousie Falls. The water of this waterfall has medicinal properties and is used by locals for treating skin diseases. The water is so therapeutic that the locals call it Gandak. It is also a popular place for swimming.
Another attraction in Dalhousie is the Bakrota Hills. Located around three kilometres from Dalhousie, this hill features waterfalls and gushing streams. A picturesque backdrop is a great place for a picnic. It also houses the memorial of Sardar Ajith Singh. The Samadhi at the confluence of many streams is a picturesque spot to visit.
Dalhousie is a scenic spot with a lot to do and see. There are many places to visit in Dalhousie, so it is a good idea to create a pre-planned itinerary before you visit. Make sure to make reservations for your accommodation and transportation.
Baba Atal Tower
Baba Atal Tower is a nine-story Sikh temple with a golden dome atop the top floor. The inside is lined with faded murals. Its dome is very decorative. It's worth visiting if you're in the area.
The tower offers a panoramic view of the city. It's a favourite hangout for tourists and visitors. Visitors can enjoy miniature paintings of the life of Guru Nanak on the first floor. A top deck also gives a nice view of the surrounding area.
A visit to Baba Atal Tower is an important part of visiting Amritsar. It's a beautiful architectural marvel that stands 40 meters high. The tower is dedicated to Atal Rai, the son of a Sikh guru who performed a miracle by bringing the dead back to life. However, at the end of his life, he gave up his life to prevent God from taking his glory. Baba Atal Tower offers some of the most beautiful sights in the region.
You can see the golden temple from here. It is home to several stalls where you can grab a tasty snack. If you're looking for authentic Punjabi food, try Pehelwan Amritsari Fish Shop and Bheeri Gali wali Dukan. Nearby, you can also visit the Khairuddin Mosque, a fine example of Islamic architecture. It was built 150 years ago by Muhammad Khairuddin. It has intricate artwork.
The Golden Temple is a two-story temple covered in real gold and surrounded by a 5.1-meter-deep man-made lake. It is a legendary religious site for Sikhs and attracts tourists and history buffs. Visitors are encouraged to wear head covers and remove their shoes. In addition to a small stream of flowing water, they can walk along a marble path while worshippers chant.
ISCKON Temple
The ISCKON Temple is a pilgrimage place close to the Golden Temple in Amritsar, Punjab. It is a temple dedicated to the worship of Lord Krishna. The ISKCON Temple is one of the most prominent places in Amritsar. The temple is a part of the International Society for Krishna Consciousness, an educational and non-profit Gaudiya Vaishnava religious organization. The temple features beautiful statues of Lord Krishna and Radha.
Located on Moni Chowk, the ISKCON Temple is one of the nicest places near Amritsar. It has a beautiful green and gold ambience and is a must-visit for any visitor. It is located in the exact location where Mata Sita was born.
Another nice place to visit is the Company Bagh. It is a popular picnic spot and has lush green surroundings. It is also a hub for tourists throughout the year. As one of India's most important religious cities, Amritsar is a wonderful place to visit.
The ISKCON Amritsar Temple is just ten minutes from the Golden Temple. The presiding deities of the ISKCON Temple are Lord Krishna, Jagannatha, Gaay, Subhadra, and Radha. The deity of Lord Krishna is over 300 years old and is worshipped by many people. The ISKCON temple is also home to a Hindu religious centre, Bhayian Da Shiwala Mandir. Visitors can visit the temple on Shivratri and offer fruit and milk to Lord Shiva.
The ISCKON Temple is one of the nicest places near Amritsar. This temple is located in the middle of a sacred lake. There is a bridge that allows you to approach the temple. The temple is very picturesque and a must-see.
Jallianwala Bagh
One of the nice places near Amritsar is Jallianwala Bagh. It's a memorial site where a massacre occurred. Many of the structures are still in place and bear bullet holes. Over a thousand people were killed during the massacre. Today, the site is a great place for a picnic or a visit.
If you're planning to visit Amritsar, the Jallianwala Bagh is a good place to start. You can spend the whole day exploring this memorial, which the Jallianwala Bagh National Memorial Trust manages. The memorial is open to the public, and there's no fee to enter or exit. However, photography is not allowed inside the Martyr Gallery.
You can also visit the Partition Museum, located in the Town Hall. This museum contains artifacts from the bloody partition. Amritsar has excellent transport links and is also well connected with major cities in India. The city's Sri Guru Ram Dass Jee International Airport makes it easy to travel to Amritsar by plane.
A public garden near the Golden Temple in Amritsar is known as Jallianwala Bagh. The Bagh is a memorial site of British forces' 1919 massacre of innocent civilians. The Jallianwala Bagh National Memorial Trust is responsible for maintaining this memorial, which is 6.5 acres in size.
The memorial site is located close to Golden Temple Rd and is a national landmark. It was once a private estate of Bhai Himmat Singh's family. In 1919, it was a piece of land. British soldiers opened fire on a crowd of unarmed Indians during this incident. Hundreds of people died during the battle. This memorial site is now a national monument.
Pathankot
Located on the banks of the Ravi River, Pathankot is home to the Shahpurkandi fort. Constructed in the 16th century, the fort is a popular tourist spot and is home to stunning views of the city and its surroundings. The fort is one of the best places to visit in Pathankot, so be sure to plan your trip around it.
If you're looking for a nice place to visit near Amritsar, the state capital of Punjab, Pathankot is an excellent choice. This city sits at the tri-junction of three states – Punjab, Himachal Pradesh, and Jammu and Kashmir – and is often used as a resting stop by travellers before venturing into the Himalayan ranges. It's a beautiful city with plenty to offer visitors. Several popular tourist towns and attractions are located near Pathankot, including Amritsar, Mohali, and Jalandhar.
The weather in Pathankot is pleasant throughout the year, with temperatures ranging from seven degrees Celsius to as high as 32 degrees Celsius. You can reach Pathankot by bus or car; the Maharana Pratap Inter State Bus Terminal is the city's major bus station. Pathankot is also well-connected with other major cities by rail.
Pathankot is 115 km from Amritsar. The city is home to beautiful greenery, winding mountain roads, and sparkling lakes. The city is also covered in cedar trees, which give it a pleasant feel. The city has a population of 53,543 people.
Pathankot is home to the Nurpur Fort, a must-see tourist attraction. This ancient fort reflects the proud history of the Pathania Rajputs. During its time under the Mughal Empire, it was called the Dhameri Fort. The current name was given to the fort by Nur Jahan, the wife of Shah Jahan.